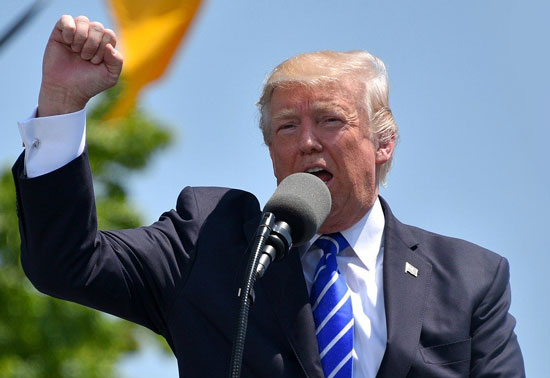 In the early morning hours of Friday, October 2, 2020, in a Tweeter post, the President of the United States, Donald J. Trump, stated that he and the First Lady, Melania Trump, both tested positive for COVID-19. By Friday afternoon, the whole World knew about it.  This troubling news has raised multiple concerns, including President Trump's COVID-19 diagnosis and his age. Numerous questions run through people's minds: What is the likelihood of the President successfully beating this horrible virus, especially considering his age? What treatment is he receiving? How is he feeling?
President Trump's COVID-19 Diagnosis and His Age – Risk Factors and Likelihood of Recovery
President Trump is 74 years old. Is this considered "elderly"? Technically, the answer to this question is "yes". The President's demanding position requires him to work countless hours and sleepless nights, and his age does not seem to slow him down. Nevertheless, his age is certainly a risk factor. The issue of President Trump's COVID-19 diagnosis and his age is a valid concern. Based on statistical data, more than eighty percent of coronavirus fatalities involve people who are older than 60 years. However, only slightly more than twelve percent of COVID-19 patients in the 65-74 age group develop symptoms that are sufficiently severe to require a hospitalization. Besides his age, two other risk factors for the President are his weight and the fact that he is a man.
He weighs 244 pounds, and his height is six feet and three inches. President Trump's body mass index (BMI), which is a measure of body fat based on weight and height, is 30.5. According to the standards set by the U.S. National Heart, Lung and Blood Institute, BMI of 30 and higher falls in the category of "obesity". The risk of being hospitalized is over 110 percent higher for obese patients than for those whose BMI is in the normal range.
Also, based on an analysis by the Centers for Disease Control and Prevention (CDC), the fatality ratio for COVID-19 victims is more than two times higher among affected males than among female patients. The risk of hospitalization is also twice higher for men that for women.
Nevertheless, President Trump's odds of successfully recovering from COVID-19 are very high. Despite his age, weight, and gender, he is otherwise healthy. Over seventy five percent of those who died due to coronavirus and its complications, including victims of potential elder neglect at nursing homes, had various chronic and serious conditions, including the following:
cardiovascular and heart disease;
kidney and liver disease;
lung disease;
diabetes; and
cancer.
The President's reported current condition appears to be encouraging. On Friday, October 2, 2020, the White House issued a report that President Trump's symptoms were "mild". White House physician, Sean P. Conley, M.D., issued a statement indicating that the President is expected "to continue carrying out his duties without disruption." On Saturday, October 3, 2020, during a press conference that was conducted at Walter Reed National Military Medical Center, Dr. Conley made the following statements:
the President is "doing very well";
his symptoms are "resolving and improving";
President Trump has not had a fever for 24 hours; and
he does not have any breathing difficulties and he is not on oxygen.
Scott Atlas, M.D., the President's adviser with respect to the coronavirus pandemic, commented to Fox News that he expected President Trump and the First Lady both to make a complete and "rapid recovery". Dr. Atlas is adamant that the President is a "very healthy guy" and he "will be back on the road in full swing".
Where and How is President Trump Being Treated for COVID-19?
President Trump has been taken to Walter Reed Military Medical Center in Bethesda, Maryland. Due to the unpredictability of COVID-19 and its propensity to quickly turn from mild to life-threatening, physicians agree that taking the President to Walter Reed as a precaution was completely prudent and appropriate.
At the hospital, the President is being treated with the following two main medications:
(1)   An antibody cocktail called "REGN-COV2", which is made by Regeneron Pharmaceuticals, Inc. This experimental medication combines two monoclonal antibodies [REGN10987 and REGN10933]. Its purpose is to block and weaken the infectivity potential of COVID-19 [formally known as SARS-CoV-2], and to reduce the time necessary to alleviate the symptoms of this virus. So far, the President has received one 8-gram dose of this antibody cocktail.
(2)   Remdesivir [also known as "Veklury" and "GS-5734"] is an experimental nucleotide analog medication that has a broad-spectrum antiviral activity. This medication was developed by Gilead Sciences. In May of 2020, an Emergency Use Authorization (EUA) was issued by the U.S. Food and Drug Administration (FDA) with respect to this medication. Pursuant to this authorization, Remdesivir can be administered to COVID-19 patients who are treated at hospitals. On Saturday, October 3, 2020, President Trump received his second dose of Remdesivir.
According to President Trump's physician, Dr. Conley, besides the REGN-COV2 antibody cocktail and Remdesivir, the President is taking the following supplements and medications:
Zinc
Vitamin D
Melatonin (a synthetic supplement designed to promote restful sleep)
Aspirin
Famotidine (medication used to treat and prevent heartburn). This medication is commonly known under its brand name "Pepcid AC". In a clinical study, Famotidine demonstrated a potential to improve clinical outcomes for coronavirus patients.
At the press conference on Saturday, October 3, 2020, Dr. Conley commented that President Trump told physicians that he felt like he could "walk out of here today".
When the President of the United States of America gets the virus that has killed more than one million people throughout the World, it is natural to get anxious and concerned about the uncertainties this bad news brings. There is a potential that the President's condition may affect a myriad of political, financial, and social aspects. Based on the assessments by the President's physician, Dr. Conley, as well as other physicians, his chances of a successful and full recovery are high. Let's wish President Trump a speedy recovery.
For White House updates, visit https://www.whitehouse.gov/news/
If Your Loved One Has Been Affected by COVID-19, Promptly Contact a Lawyer for a Free Consultation!
Since early 2020, COVID-19 has been ravaging nursing homes throughout the United States, including California and Los Angeles. Many elderly nursing home residents have died. If you suspect a facility's wrongdoing related to the COVID-19 infection or the wrongful death of a loved one, please call or fill out an electronic contact form today to request a free consultation. Cherepinskiy Law Firm fights on behalf of the elderly throughout California, including Los Angeles, Orange County, as well as Riverside, San Bernardino, and Ventura Counties.