Guide By – Los Angeles Construction Accident Attorney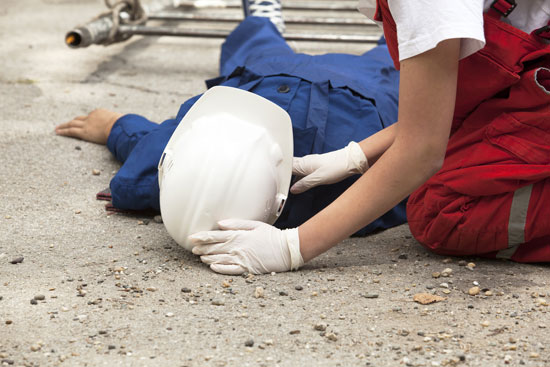 Construction sites represent some of the most dangerous work settings. Due to the very nature of the construction industry, workers are exposed to multiple hazards, which can potentially cause serious injuries, temporary and permanent disabilities and even death. For this reason, as the Los Angeles construction accident attorney, Cherepinskiy Law Firm is devoted to the fight for the rights of the victims who suffered as a result of someone else's negligence.
Construction site accidents may potentially involve scaffolding, machinery, demolition, excavation, and other aspects of construction. It is not an easy task to evaluate and investigate the accident, determine the right level of required compensation for the injured construction worker, and establish liability. The potentially liable parties include, but are not limited to, construction site owners, general contractors, subcontractors, manufacturers of construction materials and equipment, and engineers. All these different parties will likely have different insurance carriers and coverages, and will be represented by different defense attorneys. That is why, when pursuing a construction accident case, it is crucial to hire a skilled Los Angeles construction accident lawyer – someone who is knowledgeable in the unique aspects of construction work and the laws applicable to it.
Construction Accident Statistics
Construction sites expose workers to some of the highest risks of suffering a fatal injury. Based on the U.S. Occupational Safety and Health Administration ("OSHA") statistical analysis:
In 2016, 21.1% of private sector workplace deaths (991 out of 4,693) involved construction accidents.
In other words, in 2016, one out of five fatal work injuries were in the construction industry.
The "Fatal Four" Hazards in Construction Industry
The main causes of workplace deaths in the private construction industry are: (1) Falls, (2) Caught In or Between Objects, (3) Electrocutions, and (4) Struck by Object.  These dangers are commonly referred to as the "Fatal Four" construction industry hazards. Based on the data from the U.S. Bureau of Labor Statistics and Occupational Safety and Health Administration (OSHA), in 2016, the "Fatal Four" accidents caused the majority (63.7%) of construction site fatalities. OSHA concluded that, without these Fatal Four hazards, each year, the lives of 631 construction workers would be saved.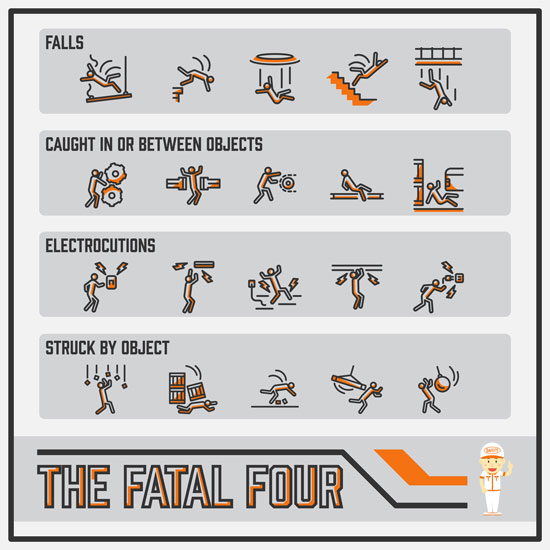 Falls
Falls represent the most frequent danger in the construction industry. For example, OSHA reported that, in 2016, 38.7% (384 out of 991) of construction site fatalities involved falls. Construction workers can fall from a myriad of places which include, but are not limited to, the following:
roofs
balconies
windows
scaffolding
skylights
leading edges
ladders
through temporary floors
into empty elevator shafts.
The alarming statistics involving fall accidents at construction sites is, unfortunately, not surprising. Violations of OSHA safety standards regarding fall protection, scaffolding, and ladders are included in the 2017 OSHA's list its top 10 most frequently cited workplace safety standards. Construction employers have to utilize appropriate workplace precautions such as properly maintained and selected equipment and fall precautions (e.g. rails, harnesses and anchors, and personal fall arrest systems).
Caught In or Between Objects
In 2016, 7.3% (72 out of 991) of construction industry deaths were the result of caught in or between accidents. This type of accidents involves workers getting caught in or compressed by objects or equipment, as well as caught, struck or crushed in collapsing equipment, materials or structures. Employers must adhere to appropriate safety policies and properly train workers who operate heavy machinery and work in high-risk settings. Typical examples of construction workers getting caught and crushed are as follows:
Collapsing structures – floors, balconies, walls, roofs, support beams
Heavy equipment – cranes, excavators, elevators
Containers
Electrocutions
In 2016, OSHA reported that 8.3% (82 out of 991) of construction site fatalities were caused by electrocution accidents. Electrical equipment frequently involves extremely high currents. Accidents involving electrical equipment can lead to fires and explosions. In addition, construction workers exposed to "hot" (i.e. energized) electrical wires and power sources can be shocked or electrocuted resulting in severe burns, temporary or permanent disabilities, and fatalities. Safety procedures and equipment (e.g. gloves, safety glasses, etc.) are indispensable in preventing electrocutions.
Struck by Object
This is the second most frequent hazard in the construction industry. Pursuant to the data from OSHA, in 2016, 9.4% (93 out of 991) of construction site deaths were caused when workers were struck by objects. The struck by object dangers are divided into four categories based on the type of movement of the "striking" objects: flying objects, falling objects, swinging objects, and rolling objects. The weight and speed of a moving object that strikes or crushes a construction worker can lead to devastating consequences such as permanent disability or death. Following safety protocols and guidelines is crucial in preventing struck by objects accidents. There are typical examples of Struck by Object accidents:
Flying Objects
Objects flying out of pressurized pumps
Debris that can fly out of pipelines being cleaned with compressed air
Nail gun accidents
Staple gun accidents
Falling Objects
Crane accidents.
Cranes represent the most hazardous type of modern heavy construction equipment. The statistical analysis by the U.S Bureau of Labor Statistics and the Center for Construction Research and Training shows that from 1992 through 2006, crane accidents alone caused 632 fatalities. Crane accidents can occur in multiple ways, including:
heavy objects separating from lifting clamps
loads falling off crane platforms
tearing and breaking of crane boom cables
complete collapse of the crane structure
the elevated body of a dump truck can suddenly lose its position and come crashing down
Loads falling out of trucks
Bricks falling out of buckets when being hoisted to the upper construction levels
Bricks and construction materials falling off roofs, balconies, and other construction surfaces
Swinging Objects
Swinging crane accidents

Barge and ship cranes
Port cranes
Truck cranes
Excavator accidents
Backhoe loader accidents
Pipes that swing when being loaded / unloaded
Rolling Objects
Unmanned rail cars
Trucks

left in neutral and without engaging parking brakes
during maneuvers to be loaded / unloaded
Tractor trailers
Mobile cranes
Bulldozers
A very large number of construction site injuries and fatalities are preventable. The Occupational Safety and Health Administration (OSHA) issues safety guidelines, which are intended to ensure that construction industry employees work in a safe environment. General contractors and subcontractors have a duty to follow these safety guidelines. Unfortunately, for many employers in the construction industry, safety is not the first priority. For example, based on the inspections conducted by OSHA, in 2014 and 2015 respectively, 87% and 90% of construction site deaths involved safety guideline violations.
If any of the "fatal four" types of construction accident caused your injuries or the death of a loved one, you need the assistance of the construction accident attorney Los Angeles residents count on in the fight for justice. Cherepinskiy Law Firm is ready investigate whether or not the accident was caused by someone's careless violation of safety standards.
Types of Construction Accident Injuries
A construction accident may lead to serious and catastrophic injuries, as well as a fatality. The following is the listing of the most common injuries that can be caused by a construction accident:
Amputation and loss of limbs
Back and neck injuries
Bruising
Blindness and eye injuries
Concussions
Crush Injuries
Cuts and scrapes
Disfigurement and permanent scarring
Fractures and broken bones (non-displaced, displaced, and compound fractures)
Hearing Loss
Hematomas (Internal bleeding)
Internal injuries
Joint Damage
Post-Traumatic Stress Disorder (PTSD)
Skin Injuries
Soft tissue injuries
Traumatic brain injury ("TBI")
What Damages Can be Recovered in Construction Accident Cases?
Victims of construction accidents can claim the following two main types of damages: Non-Economic and Economic damages. In some situations, those who have been injured in a construction accident may potentially seek Punitive Damages. For cases involving future care, the Los Angeles construction accident attorney at Cherepinskiy Law Firm retains top expert physicians, life care planners, and economists to evaluate clients' needs and present the best case on their behalf. A detailed discussion of the recoverable damages is included on the Personal Injury Damages page of this website.
If a construction accident resulted in the death of a loved one, then compensation can be sought in a Wrongful Death action.
Take Action! Promptly Contact a Los Angeles Construction Accident Lawyer for a Free Consultation
If you believe that a careless violation of construction safety standards caused your injuries or a loved one's death, please call or fill out an electronic contact form today to request a free consultation. Cherepinskiy Law Firm, as the Los Angeles construction accident lawyer, will work zealously and tirelessly in a personal injury or a wrongful death case to make sure you are compensated for your injuries and losses.
This firm fights for clients throughout California, including Los Angeles, Orange County, as well as Ventura, Riverside and San Bernardino Counties.
Sources 
1. https://www.dir.ca.gov/occupational_safety.html
2. https://www.osha.gov/oshstats/commonstats.html