Guide By – Los Angeles Wrongful Death Attorney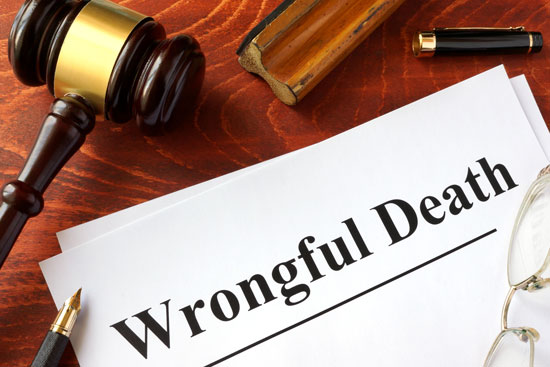 No matter what wrongdoing caused the death of your loved one, a Los Angeles wrongful death attorney at Cherepinskiy Law Firm will fight relentlessly to bring wrongdoers to justice and to achieve the maximum financial compensation. When a loved one is lost unexpectedly and suddenly, this tragedy is one of the most devastating things that any person ever has to deal with, and it brings overwhelming and life-changing emotional and financial consequences.
When the death of a loved one occurs due to someone's negligence or carelessness, the victim's heirs can file a wrongful death lawsuit to seek compensation for their non-economic and economic losses suffered as a result of the loved one's death. Please call or fill out an electronic contact form today to request a free consultation from a Los Angeles wrongful death lawyer.
Who Has the Right to Sue for Wrongful Death in California?
California laws apply the term "Decedent" to refer to the deceased person.
The following individuals (or the Decedent's personal representative on their behalf) can potentially assert a Wrongful Death cause of action:
a domestic partner [a person who, at the time of the decedent's death, was the domestic partner of the decedent in a registered domestic partnership established in accordance with California Family Code § 297(b)];
issue of deceased children [e.g. decedent's grandchildren];
other minor children (such as stepchildren) who lived with the decedent for the 180 days prior to the death and were dependent on the decedent for at least one half of their financial support, and
any other person who would be entitled to the decedent's property under the laws on intestate succession [i.e. the laws related to inheritance in the absence of a will].
California Code of Civil Procedure § 377.60.
The individuals who have the legal right to commence a Wrongful Death case are called "heirs". There is a certain procedural hierarchy when it comes to heirs' wrongful death rights. For example, if a Decedent has a surviving spouse, children, and grandchildren – it does not mean that all of them together can file a Wrongful Death case as plaintiffs. In this example, the surviving spouse and children would be the typical plaintiffs.
If there are no surviving spouse / domestic partner or children, the issue of appropriate "heirs" becomes more complicated. The circumstances of each case are different. If you are considering a potential wrongful death lawsuit, you will need the assistance of a Los Angeles wrongful death attorney to analyze the issue of which individuals are the appropriate wrongful death heirs in your particular case.
All Heirs Must Join or Be Joined in Wrongful Death Actions
In order to prevent multiple lawsuits arising out of the same facts, all heirs who are entitled to sue for Wrongful Death – must either voluntarily join or be joined in the same case.
Specifically, under California law, a wrongful death action is considered to be joint, single and indivisible. Ruttenberg v. Ruttenberg, 53 Cal. App. 4th 801, 807 (1997). In the context of wrongful death cases, these concepts have been interpreted by courts to have the following meaning:
Joint action means that all wrongful death heirs have to either join the case on a voluntary basis or, if they are not willing to do so, they must be joined in the case as defendants. The purpose of this rule is to make sure that only one verdict is rendered for all damages that can be recovered in the case.
Single action means that, regardless of whether the action is filed by one or all of Decedent's heirs, only one wrongful death case can be filed.
Indivisible action means that Decedent's heirs are not allowed to proceed with their own separate wrongful death lawsuits against the same defendant or defendants.
Ruttenberg, 53 Cal. App. 4th at 807 (citing the opinion of the California Supreme Court in Cross v. Pac. Gas & Elec. Co., 60 Cal. 2d 690, 694 (1964)).
In wrongful death cases, the law imposes on plaintiffs an affirmative duty to join all known omitted heirs in the same single case – i.e. invite all additional and eligible heirs to participate in the case and name them as fellow "plaintiffs". Some heirs, for various reasons, may be unwilling to voluntarily participate in the case. If that occurs, every heir who refuses to become a co-plaintiff – has to be named as a defendant (commonly referred to as "nominal defendant" or "defendant in name only"). Although such heirs are named as defendants, California law considers them to be plaintiffs. Ruttenberg, 53 Cal. App. 4th at 808.
If wrongful death plaintiffs do not join all heirs in their case, it will not prevent the case from proceeding all the way through trial. However, knowingly omitting heirs will subject plaintiffs to personal liability. If a wrongful death case results in a recovery through a settlement or a trial verdict, the omitted heir or heirs will not be allowed to proceed with a "new" wrongful death action against the defendant or defendants who had no idea of their existence. Instead, the improperly omitted Decedent's heirs will have a legal right to sue the heirs who were plaintiffs in the wrongful death case for a share of the recovery. Ruttenberg, 53 Cal. App. 4th at 810.
Proving a Wrongful Death Claim
Under California law, Wrongful Death is a cause of action (claim) that arises when someone's act or omission causes a person's death. Wrongful death claims are based on the underlying wrongdoing by a defendant. The defendant's state of mind determines the theory of liability. There are two common "state of mind" types of claims: negligence claims and claims based on intentional misconduct. In intentional torts, as the name suggests, the defendant actually intended to cause harm or injury. Such cases are very rare. In negligence claims, the negligent defendant did not intend to cause any injury or death; however, the defendant is still liable because his or her carelessness resulted in someone's injury or death. Most personal injury and wrongful death cases involve negligence.  Many wrongful death claims, especially cases based on medical malpractice, may be very difficult (and sometimes even impossible) to prove without an autopsy.
Wrongful Death Claims Based on Negligence
Although the word accident is commonly used to refer to fatal incidents, when the death is caused by negligence and the deadly outcome could have been avoided if only the wrongdoer acted in a reasonably prudent manner – it is not truly an "accident". Negligence is the failure to use ordinary or reasonable care.
Based on the definition of negligence that has been developed by California courts, a person is negligent when he or she does something that a reasonably prudent person would not do, or fails to do something that a reasonably prudent person would do under the same or similar circumstances. Hinckley v. La Mesa R., 158 Cal. App. 3d 630, 637 (1984). If a person or a company breached their duty to act with reasonable care, and it has caused the death of a loved one, a wrongful death lawyer at this firm will fight tirelessly to bring the wrongdoers to justice.
Multiple tragic situations may lead to Wrongful Death caused by negligent misconduct. Navigating through facts can be time-consuming and challenging. This is where the assistance of a top-rated Los Angeles wrongful death attorney is necessary.
Wrongful Death Actions Based on Intentional Misconduct
In some wrongful death actions, the underlying misconduct is actual intentional violence. Frequently, such cases involve completely separate criminal prosecutions for murder or involuntary manslaughter, which are handled by the appropriate agencies such as the Los Angeles District Attorney's Office. Nevertheless, a Los Angeles wrongful death lawyer may be able to utilize the criminal action to maximize your likelihood of recovery in the civil case.
Wrongful Death Based on Strict Liability
The third type of liability that can form the basis of a wrongful death action involves strict liability. In those cases, the defendant's state of mind can be completely irrelevant, and the defendant can still be held responsible even in the absence of any negligence or intentional misconduct. Typical examples of such cases involve fatalities caused by products with defects.
Typical Events Giving Rise to Wrongful Death Claims
In California, the following are common tragic events that may give rise to a Wrongful Death action:
Fatal Transportation Accidents
Healthcare and Elder Care Fatalities
Work-Related Deaths
Other Causes of Wrongful Death
What Damages (i.e. Compensation) Can be Recovered in a Wrongful Death Claim?
In a Wrongful Death matter, the heirs of a deceased person may seek compensation for the following categories of damages:
Non-Economic Damages:
damages for the loss of love, companionship, comfort, care, assistance, protection, affection, society, and moral support caused by the loved one's death; and
the loss of the enjoyment of sexual relations [in case of the death of a spouse].
California jury instructions state that no fixed standard exists for deciding the amount of non-economic damages. The jurors must use their judgment to decide a reasonable amount based on the evidence and common sense. [CACI 3291.]
Unfortunately, heirs in a wrongful death case may not claim damages for their own "mental and emotional distress, including grief and sorrow." Krouse v. Graham, 19 Cal. 3d 59, 72 (1977).
Economic Damages:
funeral and burial expenses;
the loss of the financial support [if any, that the deceased person would have contributed to the family during either the life expectancy that he /she had before death or the life expectancy of the plaintiff, whichever is shorter]; and
the loss of gifts, benefits, and household services that would have been provided by the deceased loved one.
When the jury is making a decision with respect to a specific individual's life expectancy, the following factors may be considered by the jury:
the average life expectancy of an identically-aged individual and
the deceased individual's lifestyle, overall health, occupation, activities, and habits.
[CACI 3291.]
In California, punitive damages cannot be recovered in a Wrongful Death action. Ford Motor Co. v. Superior Court, 120 Cal. App. 3d 748, 751 (1981).
However, the law allows recovery of punitive damages by the representative(s) of the decedent's estate in Survival actions, which also allow the estate to claim lost earnings and medical expenses incurred by the deceased person prior to his or her death. Cherepinskiy Law Firm, the wrongful death attorney Los Angeles residents can count on, will analyze all factors to determine what kinds of damages can be potentially recovered in any given matter.
Are There Time Limitations On Filing A Wrongful Death Claim?
In California, the statute of limitations with respect to filing Wrongful Death claims is a complex issue. The time period depends on multiple circumstances, including whether or not the claim is against a healthcare provider (medical malpractice cases), a Governmental entity, or other individuals or business entities. It is important that the applicable time limitations are strictly followed by the surviving spouses, children, siblings, and other heirs who have the right to sue for Wrongful Death. Otherwise, any potential legal rights to a financial compensation may be lost forever.
Dealing with the loss of a loved one is the most difficult time for any person. Nevertheless, in order to avoid statute of limitations issues, as well as the potential loss of evidence and important witness memories, it is crucial to discuss the case with a wrongful death lawyer in Los Angeles at the earliest opportunity.
Take Action! Promptly Contact a Los Angeles Wrongful Death Lawyer for a Free Consultation
If you suspect or believe that your loved one's tragic death was caused by someone's negligent or reckless misconduct, it is crucial to immediately consult with a wrongful death attorney in Los Angeles. Please call or fill out an electronic contact form today to request a free consultation. Cherepinskiy Law Firm, as the wrongful death lawyer Los Angeles residents can rely on, will work zealously to make sure the wrongdoers are brought to justice, and to obtain the maximum compensation you are entitled to.
This firm provides legal services for the heirs of Wrongful Death victims throughout California, including Los Angeles and Orange Counties, as well as Riverside, San Bernardino, and Ventura Counties.
Resources
1. Discussion of Grief and Bereavement by the U.S. National Library of Medicine: https://medlineplus.gov/bereavement.html
2. AARP's Guidelines for coping with the death of a loved one: https://www.aarp.org/home-family/friends-family/info-06-2012/when-loved-one-dies-checklist.html
3. Medicare guideline regarding death reporting: https://www.medicare.gov/sign-up-change-plans/report-a-death
4. Discussion of Survivors Benefits by the U.S. Social Security Administration: https://www.ssa.gov/benefits/survivors/